How to speed up windows 7 with ReadyBoost Feature ?
Microsoft introduced this technology Ready Boost feature in windows Vista, which promises to accelerate performance, which didn't do well. However this feature actually works in Windows 7. 
You can use this Technology Ready boost in Windows 7 to speed up the boot process, data access, data processing and system shutdown. Lets find out How to

speed up windows 7 with ReadyBoost

.
So What is "ReadyBoost" ?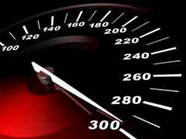 When your computer runs low on memory, it needs to stash data, so it turns to Hard disk drive to stash data. But hard disk being slower, Flash memory is preferred as it offers a speedier alternatives.
This technology is basically designed to help when your PCs memory is low. Readyboost works with most flash storage devices. Windows 7 can handle more flash memory and even multiple devices, up to a staggering 256 GB of additional memory as ReadyBoost.
So How do you activate this Feature ? to speed up windows 7 with ReadyBoost. If you have a fast USB flash drive available, give ReadyBoost a try with your Windows 7 system and see the difference.
HOW TO SPEED UP WINDOWS 7 WITH READYBOOST FEATURE :
Plug your USB flash drive on to a USB port in your PC, if auto play is enabled in your PC it will open your Flash drive, just close it.
Click on your "My computer"  in the My computer window locate your flash drive and right click on the flash drive (as shown below).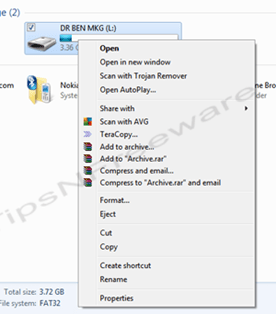 3. From the Menu that appears, scroll down and click on "Properties" you will see the following window as shown below





4. In this properties window click on the tab "ReadyBoost" as shown above. 


5. ReadyBoost window will give three options with radio buttons. Select the third radio button that says "Use this Device" and click to select. Windows will warn you if there is not enough space (more on that later). Or whatever space is available on the flash drive can be used for your ReadyBoost.
Click on apply than OK. ReadyBoost starts immediately. You wont need to use the Safely Remove Hardware feature to remove the flash drive, but if you remove the flash drive you lose the memory boost.
Now use your computer as usual. Windows Readyboost significantly speeds up boot process, data access, data processing and system shut-down.
I am Ben Jamir, Founder and Author of this blog Tipsnfreeware. I write about the computers,tested free Software's, Tips, Tricks, Networking, CCTV and Information Technology on this blog. If you like my post /Tips then please like and share with your friends.