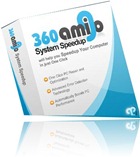 How to speed up your Computer?  Over time you may notice your computer becoming noticeably slower. Takes longer time to boot and shut-down. Opening and closing files and programs becomes slower.
Dont blame the systems. It happens if you donot do the regular PC maintenance job. Like your house your PC too needs regular cleaning, not only the hard ware components but also the system itself.
What makes a PC Run Slow? 
We install and uninstall Software's. Store MP3 files, video files. When not needed delete these files. While deleting programs from your Computer (Uninstalling) is relatively easy. But its not like that. Most of the program do not completely remove the traces of entries made by the program specially the registry entries.
While deleting a picture folder link from the desktop, or the folder itself. That do not necessarily delete all the information's relating to that folder or picture. Some short cut link entry remains in the registry.
Over time these orphaned links and registry entries chokes the system and SLOWS down your Computer. Unless you are using a good stand alone Uninstaller programs. 
Today we will show you how you can do all these Computer House keeping with a FREE tool. And speed up your computer, as it was when new.
360 Amigo system speed up, a free utility program. A new PC optimization and Error repair utility. That can dramatically improve the performance of your Computer.
This utility, 360 Amigo system speedup, includes a system Cleaner, A system Optimizer, and a wide range of System tools designed exclusively to speed up your computer. The program has a very simple easy to understand interface, which both beginners and experienced users will enjoy with the available features and options.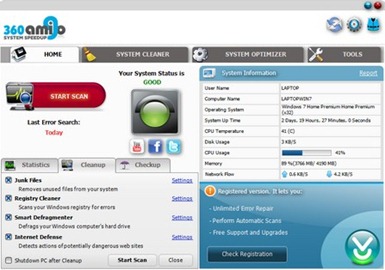 360 Amigo system speed up your  also has a built in Registry cleaner to detect and remove all bad/broken entries left behind by un-installed programs. It also finds and cleans broken link and short-cuts etc. Very important feature to speed up your computer. 
These are the MOST important factors which slows down a Computer. This utility also optimizes windows for for faster start up time, and stops runaway processes (important feature). It also includes a junk files Cleaner, and removes traces of online activities, like browser history, temporary files, log files,cookies etc. All these very important to speed up your computer and also maintain it.
This is one tool which has loads of features, to make your system clean and run faster.
System Requirements· Windows® XP in 32 bit, Windows® Vista and 7 in 32 bit or 64 bit Editions· 300MHz or higher processor· 256 MB of RAM· 12 MB of hard disk space· Internet access is required to download product updates.
---
Posted By: Ben Jamir
Ben Jamir is the Founder and Author of Tipsnfreeware. He is a part time Blogger, sharing his experience and giving a Helping hand to Home users. You will find here the best Windows Tips,Tricks and quality Freeware.