Millions of users use Yahoo E-Mail account to save, send and receive emails over web. But there is also the inevitable fear of losing data from their Yahoo account after a bug has been seen in Google offices.
That's why many prefer to create backup of their Yahoo emails on local hard drive. So in the event they lost their vital information from Yahoo account they have a backup data with them.
This is where tools like Yahoo Backup Software comes in handy that provides facility to save your complete Yahoo account,in four popular formats i.e. PST,EML, MSG,and MBOX respectively. Moreover, the tool also provides 'Delete after download' option to delete all details from Yahoo account after taking backup. So your confidential information will not be hacked or stolen by technical experts.
Benefits Offered By Yahoo Backup Tool
• Foolproof Backup Of Yahoo Account Of Users: Complete backup of Yahoo account emails in three popular file formats i.e. PST/EML/MSG/MBOX along with attachments in original form. Each of these file formats can be in the future used with suitable applications like; Outlook Express, Windows Mail, MS Outlook, Thunderbird, Mac Mail, etc.
• Clear Yahoo Account Emails History After Download: Delete after download option is provided to clear the emails history from Yahoo account so that hackers or other internet bugs cannot access your confidential data. This also helps to save space in web email clients like Yahoo so that new data can be saved in account.
• Option To Download Selective Folders From Yahoo: Filter options are provided in case user wants to download selective data from Yahoo account.  Just checking or unchecking the folders for which the backup is required will be executed according to user's choice.The backup will be created only for selective folders from Yahoo account.
• Pause And Resume Options To Create Backup Accordingly: Pause and Resume options are also provided by this tool so that you can 'Pause' the process of Yahoo backup and 'Resume' at the time of need according to requirements. This process can help in circumstances where users have to backup huge amount of emails /data's.
• Set Internet Bandwidth And Throttling Settings: Users can also set internet bandwidth consumption to be consumed by the tool. So that process to backup Yahoo account can be performed quicker and faster. The tool will consume only predefined units of internet bandwidth.
Software Details And Activation Requirements
•    Name of the tool: SysTools Yahoo Backup Software
•    Size of tool: 12.2 MB
•    Version: 1.0
•    RAM: Requires 512 of RAM (1 GB is recommended)
•    Hard disk: Requires atleast 15 MB of free hard disk space to install the tool
•    Processor:1GHz of processor is required but 2.4 GHz is recommended to install the tool
•    Windows OS version: Supports all Windows versions up to Windows 8.1.
Demo version link: http://www.systoolsgroup.com/yahoo-backup.html
Demo Version of Yahoo backup tool can be download from the above provided link. With Demo version you can export first 100 emails from Yahoo account for absolutely free of cost. Limitation of trial version is it gets expired in 30 days of downloading from official website of the organization.
Full version:
For backup unlimited emails from Yahoo account of users, the tool is available in packages for single user backup, 2-10 users backup till 100+ users backup so that tool can be purchased according to needs of users. Each version of tool can be purchased by contacting the support head of the organization around the clock.
Let us now see the Working Of Yahoo Backup Tool, for saving Yahoo account emails to local hard drive of user.
How This Tool Works:
First download and install the tool in your system. Now run it from Start>All Programs>SysTools Yahoo Backup software>SysTools Yahoo Backup software. You will see the welcome screen as shown below. Just select language and provide log in credentials to software and click on Login to enter into software wizard.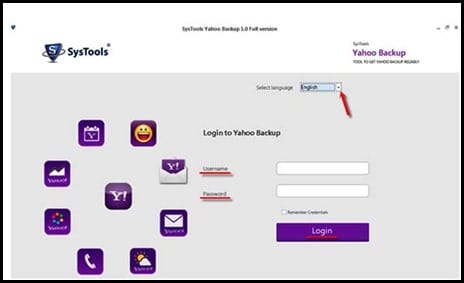 Now when you get logged in into software, you will see the following window as shown in below image. Just select the 'Backup' option from the menu panel and under 'Options' menu select the file format into which you require to save backup into.
Also provide the destination location to save backup and check on 'Delete after download' or 'Apply filters' option to proceed further. After applying all necessary settings to your Yahoo account emails, click on 'Start' to begin the process of Yahoo backup.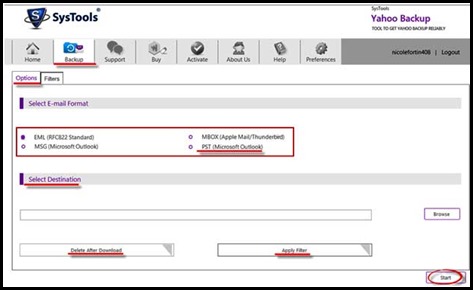 The whole process of Yahoo backup can be observed via Status Report which is generated by the tool. Users can get to know about number of emails, progress of process, rate per minute and destination path etc in the window panel.  And as soon as the process to backup yahoo account emails get finished, a message will pop up on your screen stating that the download is complete, click on 'Ok' to proceed.
Final Verdict – Yahoo Backup Software
The tool is very useful to backup your Yahoo account. Without any hassles with this tool you can easily backup in few steps Yahoo account emails and other details in your local PC . Easy to use, flexible, swift and most appropriate way to download Yahoo emails to hard drive is Yahoo backup tool.

This is a guest post by Zora Stalin.She works in IT company as a Technical Manager. She loves to write Tip based articles and product reviews. Author can be contacted at Google+
Ben Jamir is the Founder and Author of Tipsnfreeware. He is a part time Blogger, sharing his experience and giving a Helping hand to Home users. You will find here the best Windows Tips,Tricks and quality Freeware.