Clean your computer from malicious Software with this free Trojan remover tool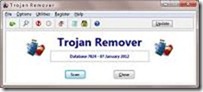 What is a TROJAN?         (updated 21 June 2016)
A TROJAN is a self-contained,malicious program. What does it mean ? A TROJAN is a software by itself a malicious code that is intended to do something bad to your computer.
It may gain excess to your computer without your knowledge by getting embedded in another software that you install.TROJAN's don't replicate itself (as a worm would do). Nor does it infect other files like a VIRUS would do.
However Trojans are often grouped together with viruses and worms,to have more devastating effect on the machine.Trojans are most often used to gain backdoor access to the computer remotely.
Ben Jamir is the Founder and Author of Tipsnfreeware. He is a part time Blogger, sharing his experience and giving a Helping hand to Home users. You will find here the best Windows Tips,Tricks and quality Freeware.