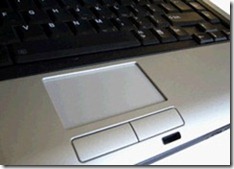 How to Disable touchpad in Laptop to avoid accidental clicks while typing on your Laptop. The location of the touchpad, which is usually falls just under your palm or wrist while typing. Makes it prone for accidentally touching and making your mouse curser jump or move and interrupt your working. 
Touch pad is a pointing Device, found on a Laptop, which acts as a substitute for a mouse as on a Desktop. A touchpad basically has a tactile surface and usually has two buttons which acts as the left and right mouse buttons. Touchpad tactile sensitivity can be adjusted and fine tuned according to a user's requirement. ( Well,I guess you already know that). How to disable touchpad in laptop, which doesn't have a dedicated button to disable touchpad.
 However many modern Laptops have a dedicated button to disable touchpad in laptop at the top along side the "F" keys. Better still if you are using a cordless mouse, you can safely disable touchpad in laptop to avoid any accidental clicks.
Read moreDisable Touchpad to avoid Accidental clicks in Laptops
Ben Jamir is the Founder and Author of Tipsnfreeware. He is a part time Blogger, sharing his experience and giving a Helping hand to Home users. You will find here the best Windows Tips,Tricks and quality Freeware.