---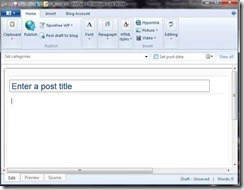 Windows live writer the best offline blogging software. Make it better with these Top 10 plugins.
Some time back I wrote an article on " 5 reasons why a Blogger should use windows Live writer" WLW short for windows live writer, is one of the best offline Desktop blogging software. Windows Live writer  is a Microsoft windows desktop program, a FREE program which you can download and install on your system.
This program comes packaged with WINDOWS ESSENTIALS. After installation WLW allows you to sync with your Blog platform, the program downloads your Blog Template/ design allowing you to create your posts Offline. You can preview your post before publishing and the WLW shows your post exactly as it would appear on your blog (all offline) you can edit the way you want before publishing.
I have been using WLW for over a year now, this software by itself is perfect, but we can make it better with plugins (there are plenty) to automate many processes like inserting a MP3 player, Image, Codes, Templates etc. etc. which makes blogging a breeze.
Here I have compiled the top 10 Plugins for windows live writer ( these are my favorites and my own top 10) which will take your blogging experience to its peak.
Read moreTop 10 Plugins for Windows Live Writer
Ben Jamir is the Founder and Author of Tipsnfreeware. He is a part time Blogger, sharing his experience and giving a Helping hand to Home users. You will find here the best Windows Tips,Tricks and quality Freeware.