FREE FILE-SYNCING AND BACKUP SOFTWARE:
File Syncing and file management is not an easy task. Because you run the risk of accidentally overwriting or deleting a important file. If you want to keep your contents between your PC and external disk synced. Here is a excellent software. Easy-to-use program makes file synchronization a breeze, even for novices.

If you have recently got a new Laptop. And want to transfer all your files from your old Laptop to new one, or need to sync files with external backup disk. In all these scenario you need a File-Syncing utility. Which does folder comparison and synchronization and backup with ease.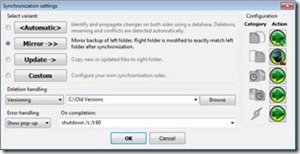 FreeFile Sync is one of the best free file-syncing, backup software. It is fast and stable and has the right features without being bloated. It is easy to use and works over the network and external drives also.
This is a must have software if you own more than two PC. And frequently update files between home and Office computers. A very good Free file-syncing and backup software.
HOW TO USE IT:
Open the program and choose left and right directories for comparison and syncing. As shown in the below image.
Key Features of FreeFile Sync utility.
Detect moved and renamed files and folders

Copy locked files (Volume Shadow Copy Service)

Detect conflicts and propagate deletions

Binary comparison

Full support for Symbolic Links

Automate sync as a batch job

Multiple folder pairs

Copy NTFS extended attributes (compressed, encrypted, sparse)

Copy NTFS security permissions

Support long path names > 260 characters

Fail-safe file copy

Cross-platform: Windows/Linux

Expand environment variables like %USERPROFILE%

Access variable drive letters by volume name (USB sticks)

Native 32 and 64-bit builds

Keep versions of deleted/updated files

Optimal sync sequence prevents disc space bottlenecks

Full Unicode support

Highly optimized performance

Include/exclude files via filter

Local and portable installation

Handle daylight saving time changes on FAT/FAT32

Use macros %time%, %date%, et al. for recurring backups

Case sensitive synchronization

Built-in locking serializes multiple jobs running against the same network share
Download the Latest Version of FREE FILE SYNC.
You can see more screen shots HERE
Ben Jamir is the Founder and Author of Tipsnfreeware. He is a part time Blogger, sharing his experience and giving a Helping hand to Home users. You will find here the best Windows Tips,Tricks and quality Freeware.