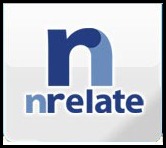 Displaying Related posts at the end of your article is a way of engaging your readers for more related topics, helping to increase traffic and earn revenue too. nRelate, a related content plugin for blogs is a tool that shows your readers related articles they might be interested in reading next. Any blogger worth its blog will know the why it is so important to have  related contents displayed in your Blog page. If you are not aware of this or have not yet implemented this on your site, than you are definitely missing a lot of traffic and also the scope of earning money from your blog (more on this later).
Sometime back I wrote an article for the Blogspot blogger platform the "Linkwithin" gadget to show the related posts in blogs, which is one of the best as of now. For a word press hosted blog there is no shortage of plugins, but many will agree with me that nRelate WP plugin  is one of the best there.
To install the plugin log on to your wp-admin page than go to plugins – add new and on the search box type "nRelate" and click on search, from the search results, select the plugin and click to install, alternately you can download the plugin from HERE, after the installation is complete click on activate. On the left panel of word press admin page will display the nRelate menu ( If you don't see just refresh the page) shown below.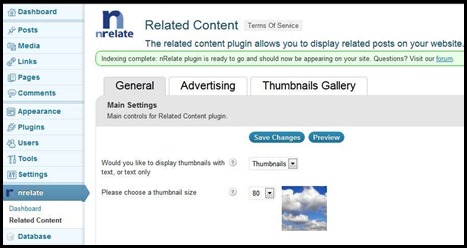 On clicking the nRelate menu you will get two more options Dashboard and Related content. Click on the Related content menu and you will get all the options as shown above.
Here you can choose how to display your related contents
As thumbnails or as text only ( Thumbnail is recommended)
Size of the Thumbnails, size 80 is the minimum size, size 100 seem to be more common
Number of Related contents to be displayed. This will depend upon the width of your main blog post content page. Of course if you want you can showcase as many related posts you want, in case it doesn't fit the plugin will display in double rows.
How relevant the related post should be Recommended is Low.
Pages to display related contents. You may choose in which pages you want the related contents be displayed.
Where to display the related contents, before the content or after the content. Best location would be to display after the content, that is at the end of a post article.
Alternatively nRelate also provides a widget, which can be dragged and dropped at the side bar, if you wish to display related contents at the side bar.
Under the Thumbnail gallery, you will get many options to choose from , as to how the related contents be displayed(Thumbnail designs).The default thumbnail display is quite good, however the choice is yours.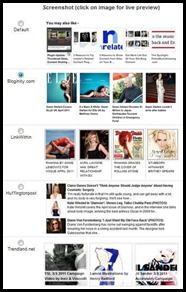 After selecting all the options, do not forget to click on the save changes button. Related contents may not appear immediately on your pages, nRelate will crawl  and index your pages to get all the relevant data's and display the related contents. Shown below as an example of related contents.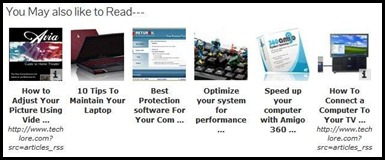 Normally it takes an hour or so, or even less depending on the number of articles you have. In case you change any settings in the nRelate related contents page, than  under the Dashboard menu of nRelate click on the "Re-Index website" Menu, for related contents to show more relevant results.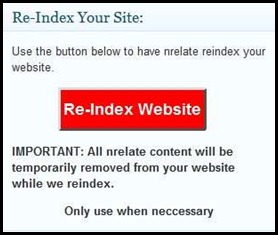 After all settings are done, just relax and watch your Blog traffic increase. Since your readers are able to find more related contents of your blog. nRelate is a great tool that allows your readers to see more of your Blog content, by showing them other posts they might like to read. Newer and older content is shown so that readers can click through to your other posts. Best of all You can always customize the plugin according to your choice.
Which related content plugin do you use?
You may also like to read "Best Related post Widget for Bloggers Blogs".
---
Posted By: Ben Jamir