---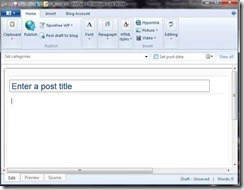 Windows live writer the best offline blogging software. Make it better with these Top 10 plugins.
Some time back I wrote an article on " 5 reasons why a Blogger should use windows Live writer" WLW short for windows live writer, is one of the best offline Desktop blogging software. Windows Live writer  is a Microsoft windows desktop program, a FREE program which you can download and install on your system.
This program comes packaged with WINDOWS ESSENTIALS. After installation WLW allows you to sync with your Blog platform, the program downloads your Blog Template/ design allowing you to create your posts Offline. You can preview your post before publishing and the WLW shows your post exactly as it would appear on your blog (all offline) you can edit the way you want before publishing.
I have been using WLW for over a year now, this software by itself is perfect, but we can make it better with plugins (there are plenty) to automate many processes like inserting a MP3 player, Image, Codes, Templates etc. etc. which makes blogging a breeze.
Here I have compiled the top 10 Plugins for windows live writer ( these are my favorites and my own top 10) which will take your blogging experience to its peak.
1. SnagIt Screen Capture Plugin : Uses SnagIt screen capture tool from Techsmith to provide sophisticated screen captures directly into Live Writer. Utility allows for many of SnagIt's capture options, use of the preview image editor, and directly embeds images into the current post.
2. Picasa Image Plugin : With this plugin you can easily insert images (Links, slideshows) you have in your Picasa Web Albums into your blog. You are able to upload new images into existing albums or create new albums.
3. Insert Video Plugin: Another very useful plugin for Video Blogs. Insert a video from MSN SoapBox, Google Video, YouTube, MySpace Video, Yahoo! Video, muveeMix and now my video.de videos and Bright Cove Videos.Usage is easy, just click on the Insert Video link, then copy and paste the link into the text box. Alternatively, you can now just paste the video link into the blog entry and the plugin will do the rest.
4. Insert Amazon Details : For money making Blogs with affiliate programs. Allows you to add a thumbnail and details about a product from Amazon with the link to the product having the Affiliate ID in it.Simply put in the ISBN or ASIN number and the plugin will get the rest for you.
5. Face Book Live writer Plugin: A good plugin to publicize your blog. Prompts you to share a link on Facebook whenever you publish a new post.
6. Text Template Plugin: The Text Template plugin lets you save commonly used "snips" of HTML. From phrases you use, to moods, links, terms and more. Apply Categories to your templates to allow for easy sorting and filtering. Very useful if you insert text at the end of your every post.
7. Face Book Photos : Facebook Photos allows Windows Live Writer users to add photos uploaded into Facebook directly into their blog posts. It uses Facebook.NET library to enable communication between Windows Live Writer and Facebook.
8. Insert Media Player in your Blog: This plugin will let you add a Media Player to your blog post. Options include, Let victors Download Media, set Width & Height of Media Player, Center Media Player in blog Post, Auto Start Media when victors loads webpage. Requires Windows Media Player to be installed. Tested on: Windows Internet Explorer, Firefox, Chrome.
9. xPollinate-Cross post Plugin: xPollinate is a Live Writer plugin that enables you to cross post full or summarized blog entries to other blogs, as well as social networking sites such as Twitter, Facebook, MySpace and more.Choose blogs to post to at cross post time , Set plugin defaults through the options dialog, and override at posting time.  Ability to turn comments and trackbacks (pings) on/off at the cross posted blog,  Add header or footer html to each cross posted entry . Cross post to social networking sites via Ping.FM , Supports triggers and services  Post using blog, microblog, or status methods, simultaneously or individually.
10. Digg This plugin: Add a Digg This badge to let visitors Digg your post. Choose your desired style and alignment in the options menu.
Well these were the my choice of top 10 plugins for windows live writer, with these plugins installed, windows live writer has made my blogging experience more enjoyable. Hope it will help you too.
Do you use Windows Live Writer ? What are your choice of plugins ? share with us.
Posted By: Ben Jamir
Ben Jamir is the Founder and Author of Tipsnfreeware. He is a part time Blogger, sharing his experience and giving a Helping hand to Home users. You will find here the best Windows Tips,Tricks and quality Freeware.