Now a days many smart phones, tablets, phablets runs on Android. Android being the most popular operating system for these gadgets. This in turn has made hackers to target these, just as they do for the Windows OS.
We use our Android devices for all sorts of online activities. Including payment of bills and other financial transactions. So its  very important to install a good reliable antivirus on Android phone to protect from hackers and malware's etc.
In this post we at TNF have pinned down to top 3 antivirus for Android Phone.
1: McAfee Antivirus & Security: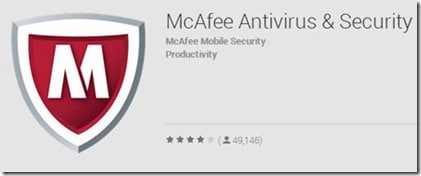 Anybody who has a personal Computer, will surely be familiar with this very popular Antivirus program. McAfee is an award winning antivirus and Mobile security software. which can protect your Android device from hackers.
The best thing about McAfee is, its App protection feature. It checks Apps against the McAfee trusted source (URL reputation database) to make sure your apps are not associated with risky sites. Also Checks  Apps are not inappropriately accessing your personal data. It also alerts you if any app exposes your data without your consent.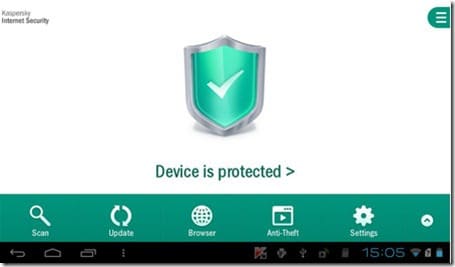 When it comes to security for you computer, Kaspersky comes first in our mind. Now they have their new product for Android devies. This excellent product, provides real time protection against Virus, Adware, Malware, Spam, Malicious programs. And also unwanted calls and sms too.
Kaspersky internet security for Android delivers the latest mobile security technology. It has a superior anti-theft protection. The antivirus scanner runs in the background and on demand to scan your device.
In the latest version a new 'Alarm" feature has been introduced. With which you can remotely sound the alarm, helping you to find your device. The anti-theft web management portal, using a personal online account you can manage all the anti-theft options from a single point.
Another very popular and effective Antivirus for PC. But Avast has been getting good reviews from users around the world, as a very good Mobile security tool also. Protect your mobile android device with this free mobile security app with both antivirus and anti-theft features.
Keeps your device safe from viruses, malware and spyware. It has features like sms history wipe, automatic phone lock, siren alert as well as GPS tracking etc..
There you have the top 3 Antivirus for Android phone. Protect your Android devices, with these top antivirus apps. Choice is yours, with which one you are comfortable with.
Posted By: Ben Jamir
Ben Jamir is the Founder and Author of Tipsnfreeware. He is a part time Blogger, sharing his experience and giving a Helping hand to Home users. You will find here the best Windows Tips,Tricks and quality Freeware.