Video files comes in a lot of formats, and sometimes its not easy to find the right Media player that can handle/play all your Media files. With the advent of High-Definition videos, it is difficult to get the right Media player which can give you the rich experience of High definition videos.
Windows Media Player, just is not cut out for viewing HD content. Video technology is advancing by leaps and bounds .High Definition videos demands a player that can do it justice,to display the crystal-clear,stunningly life like picture it provides.
TOP 4 HD VIDEO PLAYERS FOR WINDOWS: 
---
1. Splash Lite Media Player
             Splash Lite is a sleek Media player, that is capable of playing a variety of high-definition video formats that can not be handled by the default windows Media player.
This is one one of the top HD video players for windows.The player has a very attractive interface and is very well designed.The programs menu by default is hidden and appears when moused over.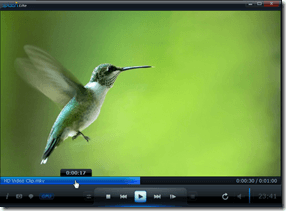 Using Splash Lite player is as easy as using any other Media Player.The Program supports a variety of formats, including AVI,MKV,M2TS,MTS,MP4,MPG TS.
It has the option to handle sub titles and adjusting the Video and Audio settings as per your liking. For beginners its simple to use and for the advanced users there's plenty to customize. Best of all Splash Lite is FREE to use.
Download for Free SPLASH LITE PLAYER.
2.  GOM PLAYER:
This is another FREE Video player, which includes many codecs (Xvid,DivX, FLV1, AC3,OGG, MP4, H263 and more). So virtually you won't need to install separate codecs for most of your video collections.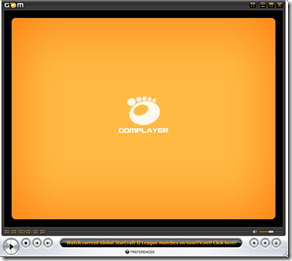 But even if GOM player doesn't have the codec for a particular files. It will download the codec, install and play the file for you.
A good feature of this player enables you to play Broken AVI files (broken indexes) or even files that are still being downloaded.
This player also has the ability to synchronize subtitle and video if there is any mismatch. Capable making a playlist for example if you run a video file and file with the similar name in the directory it will be automatically added to your playlist
Download the Latest Version of GOM PLAYER FREE
3. AllPlayer.
       Another free video player for windows. As the name suggests, AllPlayer can handle a variety of audio and video files.The programs interface is very attractive and comes bundled with several skins for you to choose.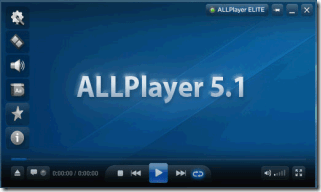 It has a series of buttons at the bottom of the screen which acts as the players controls.The free version of this player has some limitations, though the documentation say's it supports FLV files, I found the program doesn't have the appropriate codecs.
But than that's a very minor issue, you can always have a dedicated FREE FLV player for that. Overall it's a good player, and being FREE you can not expect everything in a player.
Download the Latest Version of ALLPlayer.
4. DivX Plus Software :
      With high- definition videos gradually becoming the standard for videos. Many home users at times find it difficult to get that very player which is capable of playing all your video collections. 
DivX plus is such a player for windows, perfectly suited to handle just this task for you. DivX plus is a whole suite of utilities, including a desktop player, a converter, a web player and the necessary codec pack to handle a variety of video formats.This player is specially designed to maximize the video and audio of high–definition video.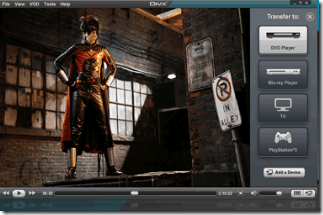 DivX plus being a complete suite by itself,if you want to optimize videos for the platform on which they will be played, the built in DivX converter will come in handy.It's quite impressive how simple it is to use. Undoubtedly one of the top video players for windows.
You can Download the Latest Version of DivX Plus Player
Well, that was my collection of the finest FREE top 4 HD video players for windows.
Of the four players, I feel GOM player and DivX Plus player are worth to look at and a must have software. All the link given above will take you to their respective download sites. Where you can also see the extra features of the paid versions (you can take your choice)
Hope this Article was helpful.Do you know any other better High definition media players (free)? share with us here.
Ben Jamir is the Founder and Author of Tipsnfreeware. He is a part time Blogger, sharing his experience and giving a Helping hand to Home users. You will find here the best Windows Tips,Tricks and quality Freeware.