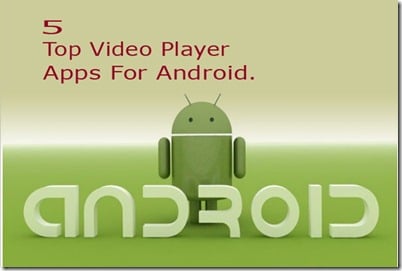 Five of the best android video player apps. Android OS has become the most sought after OS, as its open source, free and user friendly. Android users, be it a smart phone, Phablets or a Tablet,  who likes to watch videos and movies often look beyond the native video player that comes with the gadget.
Your stock Android player may not support all file formats. This can be resolved by some third party apps. Here is a list of five top Android video player apps , which will definitely make watching movies/Videos on your Android a better experience.
Kindly note listing them in serial numbers doesn't rate them, every player has its own advantages and disadvantages.
 TOP 5 ANDROID VIDEO PLAYER APPS:
1. MX Player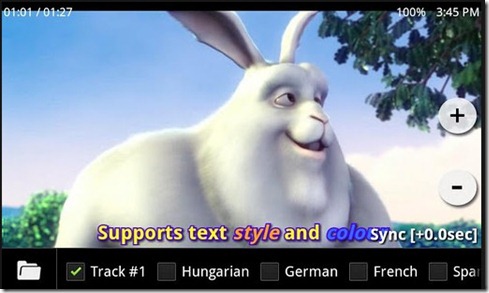 To me this video player ranks number 1 among the top Android video player apps. One of the most popular video players and possibly the best so far. This player has tons of convenient features to offer! It supports multi-core processing for the latest Android devices, which eventually offers good rendering of HD movies .The user interface is very appealing and you can also change the theme to suit your mood. This is one of the best Android video player apps.
Notable Features of MX Player:
a) HARDWARE DECODING – With new hardware decoder, more videos can take benefit from hardware acceleration, definitely a plus point.
b) MULTI-CORE DECODING – MX Player is the first Android video player that performs multi-core decoding. According to the test results on dual-core devices, it shows up to 70% performance improvement than single-core devices.
c) PINCH TO ZOOM – Easily zoom in and out by pinching and swiping across screen.
d) SUBTITLE SCROLL – Scroll on subtitle text and playback position will be adjusted to match previous or next subtitle timing.
e) KIDS LOCK – Keep your kids entertained without having to worry about making calls or touching other apps. (plugin required)
f) SUPPORT – Fully supports Android 4.1 Jelly Bean and above.
2. RockPlayer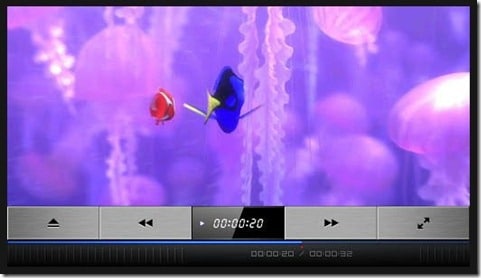 This is another versatile Android Video player apps for your Android devices. RockPlayer now  released Version 2! It plays almost everything, audio video are synchronized perfectly. User experience is optimized for touch screen and lots of features are added, like gestures to control playing. Ranking second in my list of top Android video player apps.
Don't panic if Google Play Store says your country is not supported or not compatible with your device, you can download apk from http://rockplayer.com to install. This player support all 1783 kind of devices running Android 2.3 or higher.
Major Features:
Play all formats fluently
• Video: mkv, avi, rmvb, flv, wmv, mov, mp4, ts, mpg, divx, etc
• Music: mp3, wma, aac, etc
• Lossless Audio: ape, flac, wav, aiff, etc
• Subtitle: srt (automatically load if srt with same name of video file exists)
3. MoboPlayer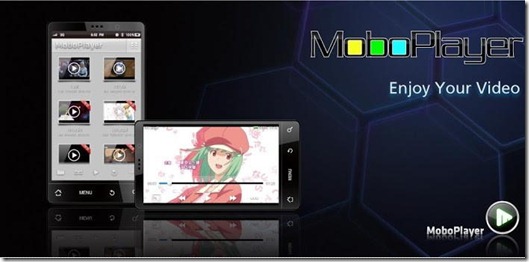 MoboPlayer, another very popular Android Video player apps, capable of displaying high-quality content. User interface is very good and very easy to use, which proves to be really beneficial when combined with its simple controls.
The best feature of the player is its ability to download streaming videos, and stream videos through HTTP or RTSP protocols. You can also play the last-accessed file exactly from the point you left off. This app can be downloaded for free and requires Android 1.6 and above. Third best Android video player apps.
MoboPlayer, video player supports:
All video formats (need to choose "software decoding" mode in most cases)
Popular subtitle formats such as SRT, ASS, and SAA
Subtitles built in MKV, MPV, MOV, and others
Multi-audio streams and multi-subtitles
Playlists and continuous play on same type files
Videos streamed through HTTP, RTSP protocols
Media libraries and sort videos by type
Thumbnail displays of videos
4. BSPlayer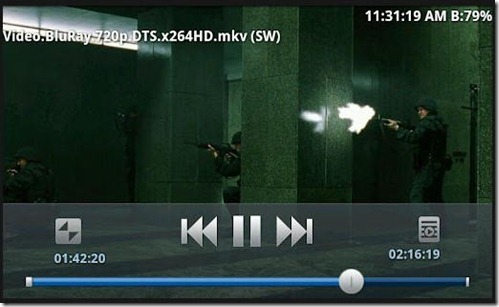 BSPlayer FREE is hardware accelerated video player for Android smartphones and tablet PCs. This app supports almost all video files. The app has several versions for ARM v5/v6/v7 CPU devices. BSPlayer FREE version is ad-supported video player. BSPlayer full version is without advertisements with added functionality is available on Google Play. In my list this comes as fourth best Android video player apps.
Main features:
– Android 4.2 Jelly Bean MR1 compatibility
– hardware accelerated video playback – increases speed and reduces battery consumption.
– dual and quad-core decoding support – significantly improves playback speed
– Support for almost all media files (video and audio player), such as: avi, divx, flv, mkv, mov, mpg, mts, mp4, m4v, rmvb, wmv, 3gp, mp3, ac3.
VPlayer, another Android video player apps, that supports a wide range of file formats and uses Hardware accelerated decoding and rendering of videos.  It comes with multiple subtitle tracks support. It supports devices featuring Android 2.3 and above. It uses Hardware video decoder at various containers and audio codecs combination.
Dual Core/High end devices ( Galaxy S/S2 , Nexus-S ) and can play 720p even 1080p MKV/AVI/MOV/FLV/TS/M4V/3GP.
VPlayer drains less battery than SW based players such as MX Video Player, MoboPlayer.
Formats supported:
– AVI,MOV,MKV,FLV,AVI,3GP,3G2,ASF,WMV,MP4,M4V,TP,TS,MTP,M2T
Video Codecs
– HW : MPEG-4,H.264,H.263
– SW : MPEG-4,H.264,RMVB,XVID,MS MPEG-4,VP6,H.263,MPEG-1,MPEG-2
Audio Codecs
– AAC,Vorbis,FLAC,MP3,MP2,WMA
– Multiple audio tracks support
I think these are the top 5 Android Video Player Apps. Give them a try. Which Android Video player do you prefer ? Do Leave a comment and share your experience.
You Might be Interested to Read:
1. Top HD Video Players for Windows.
2. Free Audio Video Joiner
Ben Jamir is the Founder and Author of Tipsnfreeware. He is a part time Blogger, sharing his experience and giving a Helping hand to Home users. You will find here the best Windows Tips,Tricks and quality Freeware.