Top 5 Camera App For Android
All Android smartphones and tablets comes with built in camera app. But the default camera app for Android, has a lot of limitations. Although some high end smartphones do come with better camera app.
But everybody can not afford a high end android smartphone. We at TNF have compiled the top 5 Camera App for Android smartphones and tablets.
Top 5 Camera App For Android Smartphone/Tablets:
1: HIGH SPEED CAMERA: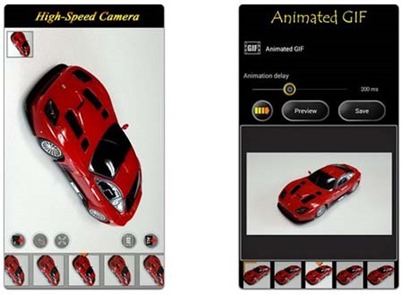 Features:
1. Supports high-speed shots(Up to 30 FPS).
2. Supports noiseless shutter.
3. Supports picture freezing.
4. Supports image effects.
5. Taking high-definition pictures.
6. Built-in Photo Gallery.
7. Supports Rear-face & Front-face camera.
8. Supports Flash-Light.
9. Supports Animated GIF


The best Camera app for Android  for taking a real HDR photo.HDR algorithm idea works by taking two photos with different exposures. Fuse them and apply tone-mapping to them to produce the final result.
Automatic image alignment algorithm aligns the images perfectly. So you don't have to worry about being too precise when taking the two photos.Unleash your creativity by adding extra effects like color enhancement filters, or add frames or texture to your HDR image.
3: PHOTO MAGIX: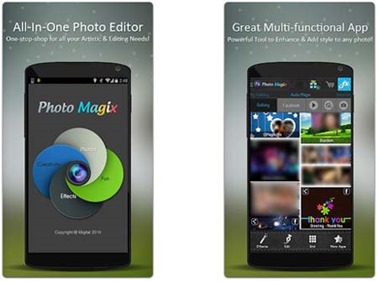 Pictures have no meaning without effects. This camera App for Android helps in adding meaning to your PICS. PHOTO MAGIX is a free Photo Editor, Drawing Tool, Photo Grid, Collage Maker & more. It's a one-stop shop for all your artistic & editing needs. which helps you to easily beautify your regular Pics!
FEATURES:
: Photo Editor – Fun & Powerful Tool to Enhance & Add style to any photo!
: Collage Maker – Collages in photo grids, free form, or with photos in the background.
: Social Network – Easily share your images with your friends & loved ones!
features: Auto Magix – Auto Picks your Gallery Pics & applies Random effects!
: My Gallery – Illustrates all the recently clicked pics from the gallery & allows Editing!
: Internet – Login & get all your pics from FB, Picasa & Flickr!
: Collage – Easily Custom design collage for FB cover pic!
: Borders & Frames – Tons of creative borders & frames to choose from!
: Greetings – Predefined template to wish your loved ones with Cool Cards!
: ClipArt – Edit your Pics to your own style & desire with Amazing Art options!
: Effects – Multiple beautifying effects; Stardom, Ghost, Paper, Nature & Color!
: Layouts – More than 50 predefined layouts or create your own.
: Backgrounds – Many background colors and patterns to use!
: Filters – Many filters to enhance your photos!
: Multiple Sources – Use pics from your Camera Gallery, FB, Picasa or Flickr
Makes you look like a pro, even if you've never edited a photo before!

4: MOLDIV COLLAGE PHOTO EDITOR: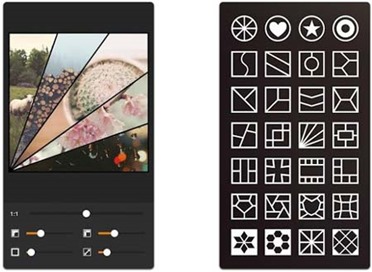 Another great Camera app for Android smartphones and tablet. Moldiv lets you combine and edit multiple photos to make amazing collages. Moldiv has fantastic frames and lots of professional editing options. Especially Moldiv offers awesome photo effects and great decoration features like text captions and numerous stamps.
Make your stories in Moldiv and share them on your favorite social media networks including Facebook, Twitter and Instagram.
Special Features :
– Frame, Free Collage or Stitch your photos.
– Select one from 80 basic frames & 80 more premium frames (IAP)
– Resize each frame area for unlimited customization
– Move individual joints and change the shape of premium frames
– Combine up to 9 photos in a single frame
– Select multiple photos at once
– Freely adjust frame aspect ratio from 1:2 to 2:1

5: NICE EYES : EYE COLOR CHANGER: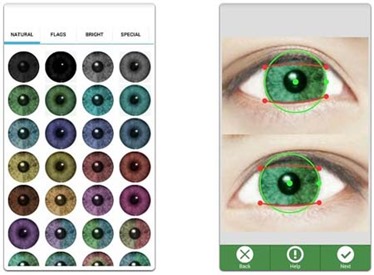 The best and most realistic eye color-changer. A unique Camera App for Android
Make your eyes bigger and more beautiful with this queasy to use photo editor.
Features:
– Realistic eye colour effects
– Eye Contacts
– Make your eyes bigger
– Easy to use
– Sharingan Eye Effects
– Change the background color
– Share via facebook and email
– Save results to Gallery
Permissions:
– Access to SD card: for loading and saving photos
– Internet: for ads