Top 5 Free Blogger Template , Fast Loading Templates for your Blog
(updated)
Blogging is a passion, this is a platform where you can share your views with a much wider audience. Almost all (and I mean almost). Bloggers starts blogging initially from a free platform like the Blogspot.com, WordPress.com, Tumblr, etc.
Whatever may be the platform you are blogging, the first and the foremost thing to prioritize is to choose a good Template or Theme that not only looks elegant but is also SEO friendly. Most importantly loads Faster.
Fortunately, there are no shortage of FREE blogger template out there. But which is good and best suited for you ? how do you go about choosing the Template.
For a seasoned blogger, that may not be a big problem, but what about a new Blogger?  Confused in this jungle with too many free blogger templates.
To choose the right template is a daunting task. A good Template should be SEO friendly (good coding), easy to customize, and should load fast.
Today I am listing here 5 of the best Free blogger Template  which look very professional yet are being provided free of cost. I hope you will find one here that suites your taste.
You can visit the authors site for a more detail descriptions. All these free blogger templates, are for Blogger Blogspot.
1.  GREY BLOGGER TEMPLATE:
     Grey blogger template is a Minimalistic template with a elegant theme background. 2 columns layout, sidebar on the right side, with gradient design for the header. This theme is good looking, loads fast, professional design and very suitable for personal blog.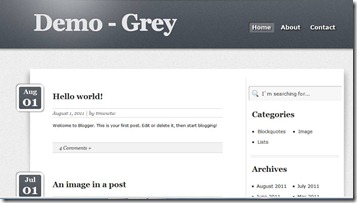 2: TECHNOLOGIC Blogger template.
     This is another free blogger template adapted from WordPress, featuring 2 columns, right sidebar. The template has space for ads, slideshow, social icons, posts thumbnails and drop down menu. Elegant and clean looking template, best suited for technology related blogs, personal blogs.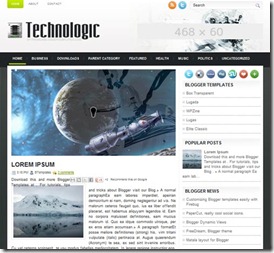 DEMO                                               DOWNLOAD
3: GAMEZINE Blogger Template.
              GameZine is another free blogger template, adapted from WordPress, with 3 columns, right sidebar, magazine styled and slideshow. Has a excellent layout and is best suited for Entertainment and Games related blogs.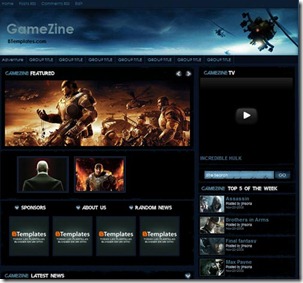 DEMO                                                             DOWNLOAD
4:  TYPOGRAPHY BLOGGER TEMPLATE.
         This is another high quality blogger Template. Very popular wordpress thesis theme like. The template features 3 columns, 2 right sidebars, light colors, top menu links and search box. Very clean looking Template, loads fast.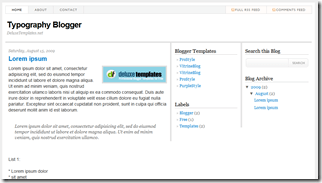 5: IRRESISTIBLE BLOGGER TEMPLATE:
      Irresistible is another cool Blogger template, featuring 2 columns, right sidebar. The template is dark bluish color, has top menu links, search box, minimalistic type with rounded corners.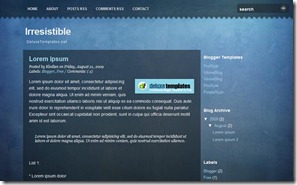 Hope this collections of blogger template was of help. Which Template do you use ?
Posted By: Ben Jamir
Ben Jamir is the Founder and Author of Tipsnfreeware. He is a part time Blogger, sharing his experience and giving a Helping hand to Home users. You will find here the best Windows Tips,Tricks and quality Freeware.