In todays world of technology, everything has become digital. Your Android smartphone lets you conveniently take photographs and videos. Sometimes you might have some photos and videos which you may want to keep private. Keep it hidden so that no body can see them.
Fortunately there are Free Android apps to password protect photos and videos. Apps that restricts access to photos and videos stored on your android smartphone. Which can be accessed only with a password, which you only know.
There are many such android apps. But we have chosen to share the top 3 such apps, which are very effective, highly ranked by users, while being absolutely free. Check them out and give it a try.
Keep safe is a free Android apps to password protect photos and videos. Highlight any picture, from the share menu, tap on keepsafe, and your selected pictures vanish from your photo gallery. Photos and videos stay locked behind an easy to use PIN pad (password). Show only what you want, and keep the rest hidden.
You can view those hidden images by unlocking them, only after entering your PIN code. As simple as that. A perfect app to keep safe your most private photos and videos.
You can download Keep safe from HERE.
2. HIDE IT PRO: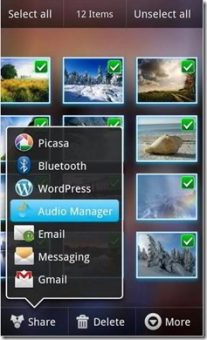 Hide it Pro is another Free Android app to password protect photos and videos. Hide your private pictures and videos, applications, messages, calls in your phone. Completely free.
Surprisingly this app is cleverly disguised as "Audio Manager". It not only hides your personal data but also disguises itself as a audio manager, which you can use to turn volume up and down. But long press on the audio manager title and Hide it pro gets launched.
You can Download Hide it Pro from HERE.
3. VAULTY: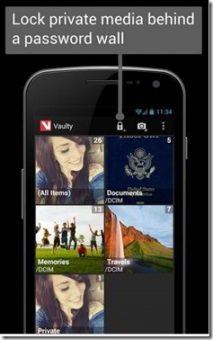 Third on our list is Vaulty, another great Android app to password protect your photos and videos. Highly rated by users all around the world. Keep your pictures or videos on your phone hidden from prying eyes with a password. Easily hide pictures and videos from the main gallery. No body will ever see or know the existence of the hidden pictures and videos except you. You can lock these files with a PIN or a text password, and your privacy is guaranteed.
You can Download Vaulty from HERE.
That's it folks ! The Top three Android Apps to Password protect Photos and Videos, in your smartphones. I know, there are many such Apps. Do you know any better one ? Share with us.
Posted By: Ben Jamir
Ben Jamir is the Founder and Author of Tipsnfreeware. He is a part time Blogger, sharing his experience and giving a Helping hand to Home users. You will find here the best Windows Tips,Tricks and quality Freeware.