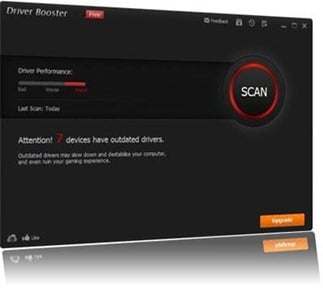 Every hardware component of your computer is driven by a Driver. Drivers help the hardware to communicate with the operating system. So that the hardware can perform for what its meant to.
Every hardware manufacturer releases updated drivers, for its hardware to improve its functions. Outdated hardware drivers can heavily affect your PCs performance and may result in unexpected PC crashes. Millions of home users are completely ignorant about, how important it is to update outdated drivers.
Updating drivers for each component individually is very time consuming and difficult too. How about having a tool that scans your system, finds and update outdated drivers with just few clicks.
IOBits Driver booster is such a software. which analyzes your PC for out-of-date drivers and updates them with a click. We tried the Free version of Driver booster on our Dell Inspiron Laptop with windows 7. Scanning was fast and it displayed all our system drivers in its scan result. The best part is, it placed those critical drivers needing update at the top of the list. Although most of it were chip-set drivers, it also found an important update for our graphic card.
Downloading and updating the drivers was easy and hassle free.
Driver booster is available in two versions, Free and Pro versions. With the free version you can automatically identify outdated drivers. And download and update outdated drivers with one click.
The Pro versions has some extra features like :
Support More Comprehensive Hardware Devices
Enjoy Priority to Update Outdated Drivers Promptly
Backup Drivers for Safe Restore
Download and Update Drivers 300% Faster
Enhance Hardware Functionality for Top Performance
Automatic Update to the Latest Version
Free 24/7 Technical Support on Demand
Drivers Booster's dark toned user interface is beautiful. The software updated all outdated drivers on my Dell Laptop. I did a second scan just to make sure, and got a all clear sign. You can set Driver booster to start when windows start and schedule for regular scans. That way Driver booster can update outdated drivers, as and when it finds one.
The only thing I really missed in the free version, is that the driver back up tool isn't active. But I feel that's OK. I hope you are regularly backing up your system ? if you don't, than better start now, back up your system after any upgrade, so you can restore it should anything go wrong.
Download the Latest Version of Driver Booster.
Ben Jamir is the Founder and Author of Tipsnfreeware. He is a part time Blogger, sharing his experience and giving a Helping hand to Home users. You will find here the best Windows Tips,Tricks and quality Freeware.