Use Your Phone's 3G Signal as a Wi-Fi HotSpot | How to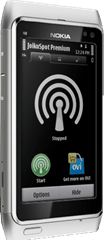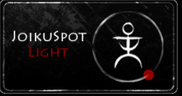 (updated on 24 May 2015)
Connecting to Internet through your Phone's 3G signal as a wi-fi hotspot  can be an excellent way of getting internet access on your laptop when you're out and there's no Internet facility available.
The feature, available on most devices, specially Android phones effectively turns your smartphone into a WiFi hotspot which your laptop can access.
However, here we will be using a FREE software called JOIKUSPOT, which is a excellent tool to turn your NOKIA phone's 3G signal as a Wi-Fi hotspot.
Wi-Fi instead of Bluetooth?  It is possible,
If you have a 3G capable Smart Phone (List of supported Phone Model is given below) you can turn your phone's 3G signal as a Wi-Fi hotspot. With

JOIKUSPOT light software (Light version is the free version)

and connect your Laptop with the phone's 3G signal through Wi-Fi transmission. 
This small software needs to be installed on the phone. After installation, start the software, agree to some usual agreements. Make sure that your phones Wi-Fi and mobile data is enabled. Now tap on the start transmission button on your phones screen,the program will confirm that transmission is started.
Your laptop will display available wi-fi signal as JoikuSpot Light, just click to connect and you are on.
Laptops and iPads can establish instant connection, secure and fast Wi-Fi connection via the smartphones JoikuSpot Hot spot using phone's 3G signal as a Wi-Fi hotspot. Multiple devices can connect to JoikuSpot in parallel and seamlessly share the same 3G internet connection.
You can use your phone's 3G to access internet e.g on the train,Car,Sailing boat, Summer cottage, Hotel, while walking or when at a remote place, as long as your mobile signal is there.
The latest version of JoikuSpot Light is extremely stable and gives you access to HTTP/HTTPS protocols, meaning that you can browse the web as through any commercial hotspot. Here are some screen shots of the software running on my Nokia N8.

JoikuSpot Light Starting screen.Tap The green button  to start WiFi transmission.

When in use the software shows details about
1. Signal strength
2.Total time
3. Download /Upload speed and total data utilization.
Extremely Easy to Use :
 JoikuSpot light is available in two version, Free and Premium version. The Free version has all the features, no nagging screens, the only drawback I found is that you can not password protect your Wi-Fi transmission. But that's a small price for the service that you get.
The premium version doesn't cost a fortune its cost less than Rs.600 INR, at the time of writing this post. With the premium version you can secure your WiFi Hotspot with password,Outlook e-mail facility,Intranet and e-mail clients via your Hotspot.
I must admit, this software is amazing,got excellent connection speed, utilizing the full power of 3G. Go get it and try.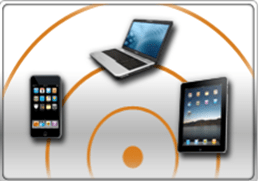 Connect all your devices to Internet through your phone's 3G signal as a Wi-Fi hotspot, with JoikuSpot Light.
NOTE: If you have upgraded your Symbian Phone Nokia N8 to Symbian Belle firmware, you need to enable Wi-Fi in your phone, and also Mobile data on. before starting JoikuSpot Light.
Supported Nokia Phone Models
N8, E7, C7, C6-01, 5800 XpressMusic, 5530 XpressMusic, E5, E51, E52, N95 8GB, N97, N78, N79, E71, E72, C5-03, X6, C6, N95, E63, E55, E60, E61, E61i, E65, E66, E73, E75, E90, N80, N81, N81 8GB, N82, N85, N86, N91, N93, N93i, N95 Americas, N95 8GB Americas, N96, N97 Mini, 5630 XpressMusic, 5730 XpressMusic, X5, 6710 Navigator, 8800 Erdos, E6, X7, 702T, T7, Oro, Nokia 500, Nokia 600, Nokia 700, Nokia 701, Nokia 603, 808 Pureview
You can Download the latest version of JOIKUSPOT LIGHT FREE.
Have you tried? what was your experience, share with us. Do you know any other better freeware?

Note: Connecting a laptop to a smartphone to use the internet means the laptop is using the phone's internet connection and therefore all data received and sent will be billed against your phone bill. Make sure you have enough data allowance/ Plan to use the 3G services to avoid running up a large bill from your mobile operator.
Ben Jamir is the Founder and Author of Tipsnfreeware. He is a part time Blogger, sharing his experience and giving a Helping hand to Home users. You will find here the best Windows Tips,Tricks and quality Freeware.