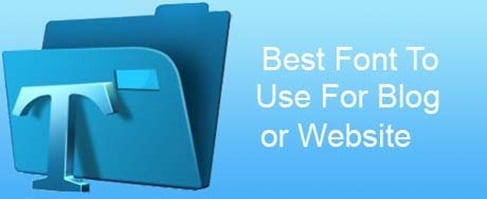 This is the question many bloggers has been asking " Which is the best font to use for Blog or website" ?
The best way to have a great looking and legible Blog, is to choose the right font.
So we are back to the same question which is the best font to use for blog. In short the golden rule, is to keep it simple.
You may want to use some fancy looking cursive type fonts or even use different fonts in paragraphs. It may look nice in your PC or laptop. But remember not every computer has every font installed.
In fact most people around the world don't have fancy fonts installed on their PCs or laptops. So if you use a fancy font, your blog or website will not display the way you designed it, if that particular font is not installed in the users machine. Your blog will be displayed with the default font instead.
Worst of all your blog or website may even break or be unreadable, which will drive away people from your blog.
So next time when you write a blog post/article think of the availability of fonts before choosing the best font to use for Blog or website.
How do we know which fonts most people have ?
There are quite a few fonts, which are known as "web safe fonts" which means nearly 100% of PCs and Laptops will have these fonts installed. So you will be safe to choose the best font to use for blog or website from these web safe fonts.
Below is a compilation of 10 commonly used fonts, also referred to as web safe fonts. You can choose any, as the best font to use for blog or website from this list.
              FONT  NAME                                         INSTALLED %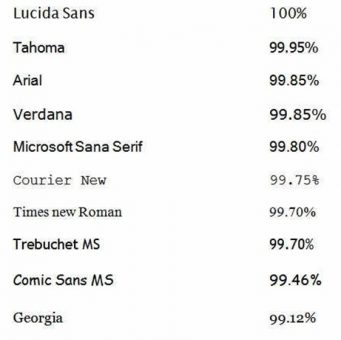 As you can see from this list, there is hardly any difference in the percentage of installed fonts. So you can safely choose any one these fonts as the best font to use for blog or website.
You must remember web browsers can use only the fonts installed in each computer. So every visitor of your blog or website need to have the font installed, that you use on your blog.
So its important to use the standard and web safe fonts as the best font to use for Blog and websites.
Conclusion: Lucida sans and Verdana are widely used fonts. 
Ben Jamir is the Founder and Author of Tipsnfreeware. He is a part time Blogger, sharing his experience and giving a Helping hand to Home users. You will find here the best Windows Tips,Tricks and quality Freeware.