Windows registry is the heart and soul of your operating system. One wrong entry or wrong edit will bring down your system.
Installing and uninstalling programs leaves behind registry entries which bloats and fragments your registry making your system slow down. You need to clean your Registry from time to time to keep your system running fast and smooth.
But the windows registry is often considered a forbidden territory. Only the most experienced users who knows what they are doing are encouraged to peer into its contents and modify.
So than how does a average home user's do ? every computer user's are not a techy to do such delicate things like modifying the windows registry. This is where dedicated tools like Registry cleaners come to the rescue.
BEST FREE REGISTRY CLEANER:
Wise Registry cleaner is a freeware tool, and is one of the safest Registry cleaning tool. Wise registry tool offers a tool that even the least experienced can use without the fear of bringing down their system. The software presents a simple, easy-to-understand interface with three tabs at the top that walk you through its cleaning features.
My first use of this software uncovered 367 registry issues with fifteen deemed unsafe entries. This finding was alarming, because these are the culprits which was slowing down my system. Another Feature of Wise Registry cleaner I liked was allowing you to manually select which keys you want to fix instead of leaving it up to the program.
This feature is important for the experienced users, the program also included a Backup feature that lets you create a system restore point and a full backup, that's reassuring indeed should something go wrong.
Apart from being the best free Registry cleaner, this Program also includes a System Tune-up feature.That offers to improve boot up and shut-down speeds. The Registry defrag also works well by tidying up your registry to improve your system performance.
Wise Registry cleaner is a safe Registry cleaning tool, its scan engine is quite fast and accurate. Finds and fixes obsolete registry entries of your system making your system stable and Fast, without you requiring to peek in to the core of the Registry to modify/delete entries (which is not advisable unless you really know what you are doing).
You can set Wise Registry cleaner to have all problems corrected automatically, all changes made to your system is monitored by the program itself and can be undone with a few mouse clicks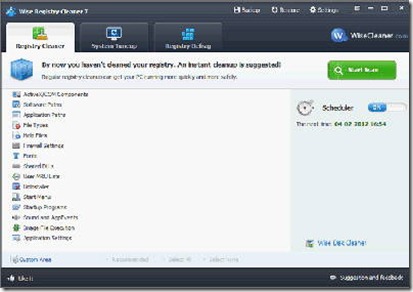 Its a Freeware
It works and you do not have to be an expert to use it.
Found an amazing amount of registry problems that my other registry cleaners did not find. The scheduler works really good (so you rest in peace). And the system tune up and registry defrag makes it a total registry care and repair tool. The best free registry cleaner.
Price : FREEWARE

File Size: 2.16 MB
Operating system: Win XP/2003/Vista/Windows 7
Download the latest version of  WISE REGISTRY CLEANER.
Posted By: Ben Jamir
Ben Jamir is the Founder and Author of Tipsnfreeware. He is a part time Blogger, sharing his experience and giving a Helping hand to Home users. You will find here the best Windows Tips,Tricks and quality Freeware.