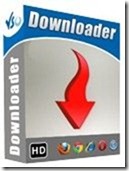 Download Audio and Video streaming from thousands of sites with this Free Video Downloader.
VSO downloader is a feature packed free video downloader with a bunch of nifty features and will download any video you want it to. A free Video Downloader which automatically detects streaming contents and starts downloading it.
The best part, this Free Video Downloader is browser independent. So it doesn't really matter which web browser you are using. This is a advertisement free tool (another plus point as a freeware tool).
This free Video Downloader also has a built-in-video converter. Which can convert downloaded videos in to different formats such as AVI, H264, Xvid, and MPEG4. You can add subtitles too, so you basically wont need a separate video conversion tool.
VSO downloader also lets you rip audio from videos. Which I feel is a cool feature and very convenient for those  who wants only the audio from a video music file. This Free Video downloader supports all popular audio and video formats, including MP4, WMV, and FLV.
This tool can easily detect videos from You Tube, Google videos etc. Additionally, VSO free video downloader can detects available video resolutions before downloading. So you can choose which resolution you want to download.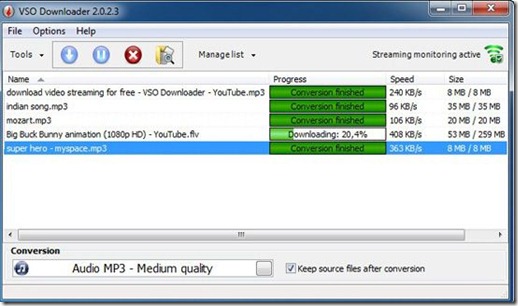 In a nutshell VSO Downloader, a free Video downloader program is a pretty nifty tool. Has its own integrated add blocker and a video converter feature. The programs interface is very user friendly. The most important feature (which I should have mentioned earlier) is that it can resume downloads.
Notable features of VSO downloader:
1. Download video streaming's from thousands of sites like You Tube,Facebook, Vimeo and many
2. Download audio streaming from any site,like Pandora, Last fm and more.
3. Download web radio
4. Download HD video streaming
5. All formats supported : FLV, MP4, WMV, ASF, MP4, SWF.
6. Streaming content automatically detected and downloaded no need for copy/paste URLs.
On the Flip Side:
1. Since it has the capability to automatically detect streaming videos and download automatically. You will have to switch off automatic download while surfing around the web or else the program will download every audio and video file it comes across.
2. Converted Videos has a watermark, this you can avoid by downloading the version you want which wont require conversion.
You can see here the List of Streaming Audio and Videos supported by VSO downloader as submitted by millions of user worldwide. Want to know how this Free Downloader works, see the Video How it works here
Download the Latest Version of VSO Downloader A Free Video Downloader 
So which free Video Downloader do you use ? Your experience and comments are welcome.
Ben Jamir is the Founder and Author of Tipsnfreeware. He is a part time Blogger, sharing his experience and giving a Helping hand to Home users. You will find here the best Windows Tips,Tricks and quality Freeware.