Windows 7 Tips & Tricks you didn't Know. Hidden Windows 7 tips.

  

  
1.Use Hidden Windows themes and wallpaper
Windows Desktop welcomes you first the moment we boot our computer. You definitely would like to dress up your desktop according to your taste.
Majority of us when we install windows 7 we choose to install English (United States) for your time and currency format, so by default wall paper and themes relating to that particular country (USA mostly for English speaking countries) gets installed.
Hidden, though,there are background pictures and themes from other English-speaking countries like Australia, Canada, Great Britain and South Africa. Normally, you can't  access those wallpaper or themes, but its there, so here is a simple command which can reveal those themes and can be used.And let me tell you some country themes are really good, specially the MCT-ZA south Africa theme
1. In the search box in the Start menu, type C:\Windows\Globalization\MCT and press Enter. (Note: Assuming you have installed windows 7 in your C: partition if not change the drive letter accordingly)
2. Windows Explorer will launch and show you a list of subfolders under C:\Windows\Globalization\MCT: MCT-AU, MCT-CA, MCT-GB, MCT-US, and MCT-ZA. Each subfolder has wallpapers for a specific country: AU for Australia, CA for Canada, GB for Great Britain, US for the United States, and ZA for South Africa.
For any of the countries whose wallpaper and themes you want to use, go into its Theme folder, for example, C:\Windows\Globalization\MCT\MCT-ZA\Theme. Double-click the theme it will be automatically installed in windows personalization section of control panel, which you can access by right click in your desktop- personalization and choose the desired theme.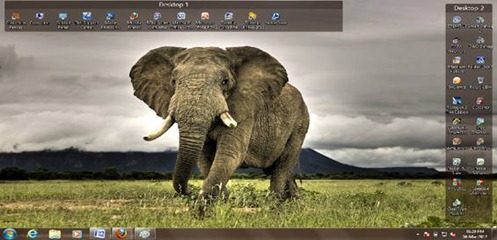 Above is a snap shot of South Africa theme(MCT-ZA) installed in my desktop. Remember along with theme, respective sound files of the themes are also installed.You can now use them as you would like any other theme or background, by right-clicking the desktop, choosing Personalize, and choosing a background or theme. They will be listed in their own section.
2. GET LAPTOP BATTERY USAGE REPORT Increase efficiency

:
Most of us have a laptop and everyone wants to get more battery life out of it! Windows 7 includes a hidden built-in tool that will examine your laptop's energy use and make recommendations on how to improve it.
To use it:
1. Run a command prompt as an administrator. To do this, type cmd in the search box, and when the cmd icon appears, right-click it and choose "Run as administrator."
2. At the command line, type in the following:
powercfg -energy -output \Folder\Energy_Report.html
where \Folder represents the folder where you want the report to be placed.You can create a folder in the desktop also.
3. Use your laptop as normally as you would do,for about a minute, Windows 7 will examine the behavior of your laptop. It will then analyze it and create a report in HTML format in the folder you specified. Click open the file, and there you'll get a report — follow its recommendations for ways to improve power performance.
3. Windows Explorer tips:
This is one of the very useful tips, will be of help in our everyday computing.Windows Explorer is the heart and soul of the Windows interface, and overall it works quite well. But you can make it better.
check boxes to select multiple files :
When we select multiple files be it music files ,image files etc, operation such as copying, moving or deleting in Windows Explorer, you generally use the keyboard and the mouse, Ctrl+ clicking every file you want to select. There's a way to select multiple files in Windows 7 using only your mouse, via check boxes.
In order to activate this feature:-
Open windows explorer. Here is a screen shot, just click on MY COMPUTER, on your desktop and on the window that opens showing your hard disk partitions, on the extreme left corner click the drop down menu on the "Organize" button.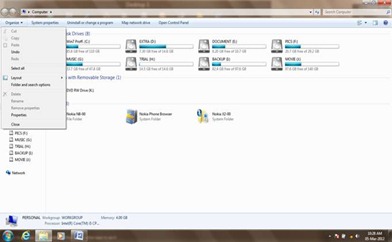 1. From the drop down menu then select "Folder and search options."
2. Click on the View tab. at the top menu
3.Under the "Advanced Settings", scroll down and check the box next to "Use check boxes to select items." as indicated by the arrow Click OK.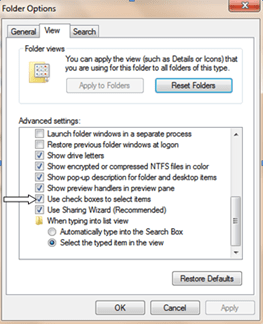 4. From now on, when you hover your mouse over a file in Windows Explorer, a check box will appear next to it; click it to select the file. Once a file is selected, the checked box remains next to it; if you uncheck it, the box will disappear when you move your mouse away.
So no more Control click to select multiple folder/files, just hover your mouse and check the box that appears and you are done.
4. RE-SIZE YOUR ICONS QUICKLY AND CHANGE THE VIEW OF EXPLORER
If you are in the habit of keeping lot of short cut icons of your favorite programs and your frequently used folders in your desktop, over the period your desktop will be completely cluttered and covered with all those icons , making your desktop look like a ??? what ever name you want to give !! because the default windows icon size is large enough to cover your desktop quickly.
 The quickest way to resize your desktop or windows explorer icons is to hold the control key and scroll the mouse wheel, the icon size will increase or decrease depending on the direction of scrolling.
If you keep scrolling down, the icons get smaller until they switch to List, Details, Tiles, and then Content. This trick essentially scrolls through the options on the Change your view button in Explorer.
Was this post helpful ? Try these hidden tips and let me know if it was of any help to you. Do you know any such hidden tips? share with us.
You may like subscribe for my FEEDS or Fee E-mail notification.
Posted By: Ben Jamir
I am Ben Jamir, Founder and Author of this blog Tipsnfreeware. I write about the computers,tested free Software's, Tips, Tricks, Networking, CCTV and Information Technology on this blog. If you like my post /Tips then please like and share with your friends.