Best Windows Driver Backup Software:
How to backup your Windows drivers? windows 7 is one of the most stable OS so far but the compatibility of hardware's issue remains. In many instances we need to spend a really good amount of time searching for the compatible driver. So, its always a good idea to backup those important drivers for the future. In case you need to format and re-install windows . The problem is Windows 7 doesn't provide any specific option to backup the drivers alone.This is when you need a standalone windows driver backup software.
 Double Driver is a free windows driver backup software. which lets you do it easily, you don't have to be a expert, even a novice can do.
With Double Driver you can backup all your windows drivers. View and restore the installed drivers in windows 7 quickly. The program is very simple to use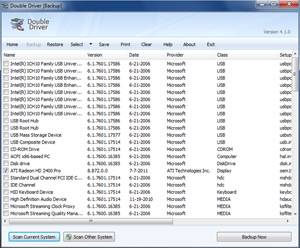 After downloading Double Driver  package, extract the contents in a folder and run the dd.exe file.
Features of Double Driver: Free windows driver backup software:
• List, save, and print drivers details
• Backup drivers from current Windows
• Backup drivers from non-live/non-booting Windows
• Backup drivers to structured folders, compressed (zipped) folder, and self-extracting capability
• Restore drivers from previous backup
• Portable (no installation required) that's the beauty.
This  is a small utility(2.03MB) only and is easy to use.
DriverMax is another free windows driver backup software, which can Backup and restore all your drivers, instantly.This utility also helps you to search for new updated drivers for your Hardware and download for you. A detail article on this must have utility can be found  HERE.


Was this post helpful ? Need any help?glad to answer your questions
Posted By: Ben Jamir
Ben Jamir is the Founder and Author of Tipsnfreeware. He is a part time Blogger, sharing his experience and giving a Helping hand to Home users. You will find here the best Windows Tips,Tricks and quality Freeware.