Windows repair tool is a free utility tool, which contains numerous mini fixes for Windows system.
This free tool by Tweaking.com, helps you to fix a lot of windows problems. It helps to fix registry errors, issues with windows update, Internet explorer, windows firewall etc. and many more.
Malware and spyware infection or new programs installed by you can modify windows default settings, resulting in to errors. Windows repair tool, scans and restores these to windows original settings.
Windows Repair All-in-one tool can perform the following tasks:
Reset Registry Permissions
Reset File Permissions
Register System Files
Repair WMI
Repair Windows Firewall
Repair Internet Explorer
Repair MDAC & MS Jet
Repair Hosts File
Remove Policies Set By Infections
Repair Icons
Repair Winsock & DNS Cache
Remove Temp Files
Repair Proxy Settings
Unhide Non System Files
Repair Windows Updates
Repair CD/DVD Missing/Not Working
and more…
HOW TO USE WINDOWS REPAIR ALL IN ONE TOOL: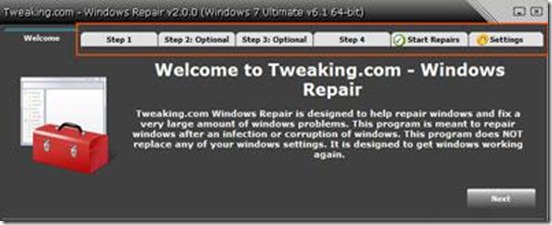 Its not rocket science to know how to use this windows repair tool. But the tool gives some optional suggestions, which I feel should be followed. These options even though not a must, but will help the windows repair tool to do what its meant to do.
When you open the program for the first time, you will be introduced to 4 steps before the
repair options, as shown in the image above. These steps are highly recommended to do before attempting any repairs.
Step 1. Clean Your System Of any Infections.
This is quite obvious, if you try to fix a system that is currently infected is obviously a very bad idea, it can make things worse. Make sure your system is clean from any virus, malware or spyware infection. Even if you think your system is clean do a scan before using windows repair tool.
Step 2. Check File System for any error
Go for a CHKDSK check from the command prompt. This will have Windows
check the file system on the drive fixing any problem it finds. Corrupt system files
can break a lot of things, and windows repair tool may fail.
Step 3. System File Check (SFC)
Windows has built in system file checker, which is a tool that checks the Windows
files are intact, the correct versions and not corrupted. It's a good idea to
do before doing repairs. Because if a file is corrupt and we try a repair that needs
that file then the repair will fail. You can access SFC from command prompt with this command : sfc /scannow
Step 4. System Restore & Registry Backup
Do a system restore point and backup your registry before attempting windows repair. This is a extra precaution, should anything go wrong during the windows repair, you can always restore your system back. This is highly recommended.
Over and above you can find here more TIPS on How to use Windows Repair all one tool
Direct Download Link for Windows Repair All-in-one Tool
Direct Download Link For Portable Version of Windows Repair All-in-one Tool.
Posted By: Ben Jamir
Ben Jamir is the Founder and Author of Tipsnfreeware. He is a part time Blogger, sharing his experience and giving a Helping hand to Home users. You will find here the best Windows Tips,Tricks and quality Freeware.