(Update) Its sad to say nRelate has announced, it has shut its doors (discontinued). However, there are other alternatives, you can read these 5 best Related Post plugins for WordPress.  
Word press WP Minify Plugin conflicting with nRelate related post plugin. Plugin WP Minify is a very popular plugin to speed up site loading time, as it minifies the css and js files.
How ever minifying sometimes causes weird problems which is sometimes very difficult to pinpoint. At its worst, minify can completely break your site specially on a badly coded themes. nRelate related post plugin is a very popular related post plugin for word press.
WP minify and nrelate seem to conflict, even though the issue is not very alarming. And most of the time a user might completely miss the problem. It took me a few days to detect that, something's wrong with the way nRelate was showing the related posts below the posts content.
Most of the time nRelate was not showing related posts, and sometimes it was displaying only two or three related contents even though it was configured to show five related contents. I double checked in the nRelate dash board settings every thing seems OK. The problem was with the WP minify Plugin conflicting with nRelate .
SOLUTION:
If you have installed WP minify and nRelate related post plugin on your site. Log on to your wp-admin, and on the nRelate dashboard settings, you will see a line which reads "WP Minify is supported, but may require configuration". With a link on it which will take you to a very insignificant looking page but with a very important configuration information for wp minify Plugin conflicting with nRelate issues and instructions.  
If you are using WP minify with nRelate related post plugin and have observed nRelate not showing related content as it should. There are two things you will need to do, for nRelate to work properly.
Log on to wp-admin and go to the WP minify settings page.

Scroll down to the bottom and click on "Show Advanced Options"

Under the advanced options make sure "Place Minified JavaScript in footer" option is unchecked.(disabled)

Now click on "Update Options.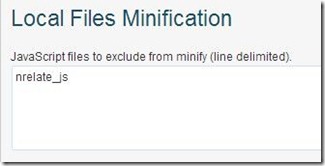 2. In the advanced settings you will find a option "JavaScript files to exclude from minify" in this area you will need to add nRelate JavaScript to exclude from WP minify. And the file to add is : nRelate_js as shown in the image. Enter nrelate_js and save your settings.
That's it, this solved my problem of this WP minify Plugin conflicting with the nRelate related post plugin.
Posted By: Ben Jamir
Ben Jamir is the Founder and Author of Tipsnfreeware. He is a part time Blogger, sharing his experience and giving a Helping hand to Home users. You will find here the best Windows Tips,Tricks and quality Freeware.